Tuesday, December 11, 2018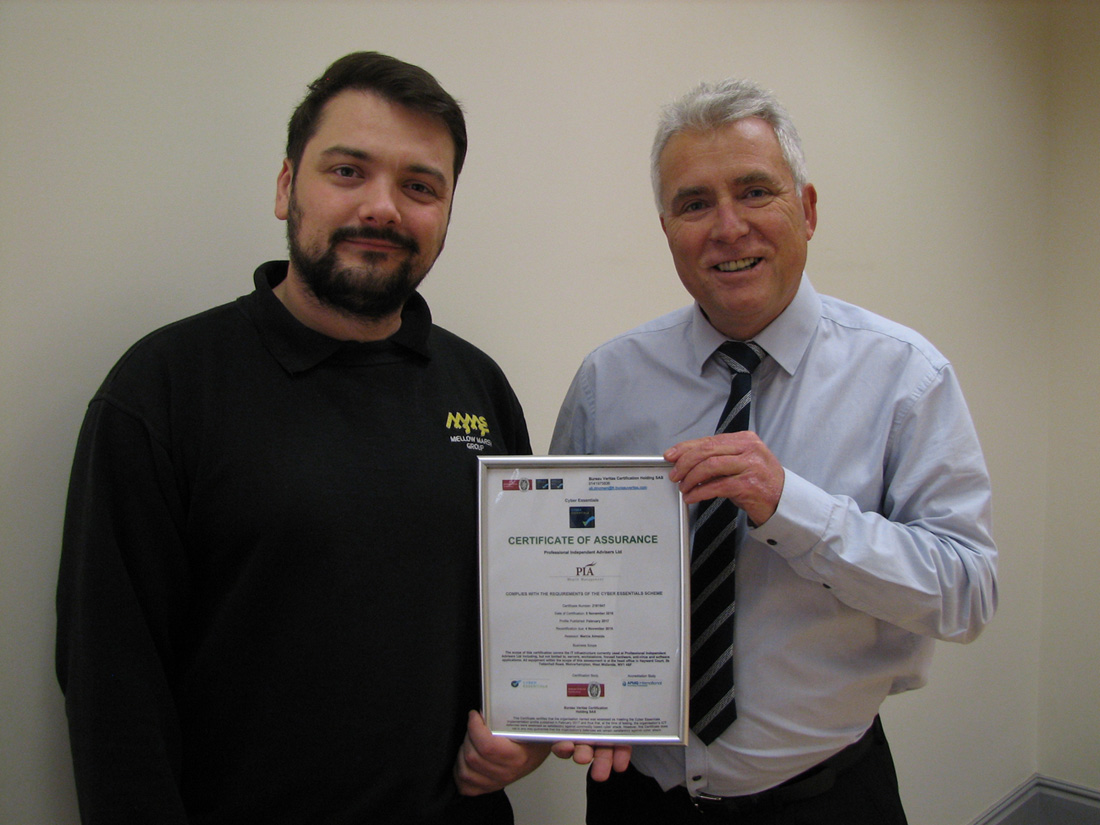 Stephen Dyson (MMS) with Richard Bourne (PIA)
In its capacity as IT Support Partner, Mellow Marsh Software Ltd (MMS) manages and pro-actively monitors the IT security control at PIA Wealth Management in Wolverhampton.
Understanding and reviewing cyber security is imperative to ensure that up to date security measures are in place and provide the best protection against cyber-attack.
Recently PIA Wealth Management were awarded The Cyber Essentials Certificate. The certificate demonstrates the organisations commitment to cyber security - it is only awarded in instances where security measures are evaluated and deemed appropriate by the Certification Body allocated.
To achieve the Cyber Essentials certification, the IT Infrastructure is assessed under five technical control themes:
Firewalls
Secure configuration
User access control
Malware protection
Patch management
A boundary of scope is established and measured against each of the five technical control themes specified. Evidence of measures is provided to demonstrate compliance with requirements. This is submitted to and assessed by the appropriate Certification Body. It is the Certification Bodies which perform the evaluation and award the Cyber Essentials Certificate.
Lee Marsh, Director of Mellow Marsh Software Ltd commented
"We have worked in partnership with PIA Wealth Management for many years providing IT and web services. A very important aspect of the service we provide is IT security - something both PIA and MMS take very seriously. We constantly review and update security measures to protect customers against cyber-attacks. It is a great achievement receiving the Cyber Essentials Certificate after demonstrating the organisation successfully meets all requirements. Security is at the top of our agenda and it is good to be recognised for the efforts made by both teams."
Richard Bourne, PIA Wealth Management Business Development & Marketing Manager added that he fully endorsed all of Lee's comments.
"Over many years we have always welcomed Mellow Marsh's support in all areas of technological security. This is massively important to ourselves and our clients. In the world of financial services, it is imperative that we associate ourselves with total professionalism at all times and working in unison together with MMS gives us all total confidence."
For independent financial advice contact PIA Wealth Management on Tel: 01902 379900 or visit: www.p-i-a.co.uk
For more information on IT and Web support services, contact Mellow Marsh Software on Tel: 01902 544135